Holy Family Home in city ready for major renovation – Catholic Philly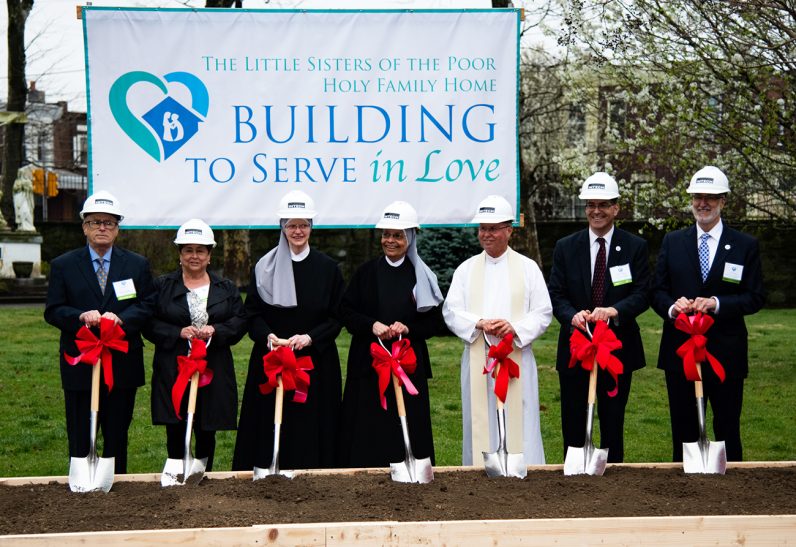 [ad_1]

By Kristine Visco • Posted April 7, 2022
The Little Sisters of the Poor broke ground March 24 as Holy Family Home, the senior care residence they run at 53rd and Chester Avenue in the Kingsessing section of Southwest Philadelphia, prepares for a major renovation.
The $45 million project includes renovating part of the existing building for approximately 58 residents' independent living apartments, as well as new construction for the sisters' convent and care household.
Construction will begin this spring and is expected to conclude by summer of 2025.
The Little Sisters of the Poor have partnered with the Catholic Foundation of Greater Philadelphia, through BuildingtoServeinLove.org, to raise the funds needed to rebuild Holy Family Home.
The sisters have been serving in Philadelphia since 1869 and have been operating Holy Family Home since 1973. Continuing the mission of their foundress, St. Jeanne Jugan, the Little Sisters of the Poor welcome the neediest elderly of every race and religion, offering them a home where they will be welcomed as Christ, cared for as family and accompanied with dignity until God calls them to himself.
Archbishop Nelson Perez began the celebration with morning Mass, and afterward Msgr. Francis Beach presided at the outdoor groundbreaking ceremony.
Mother Alice Marie Monica, provincial superior of the sisters' Brooklyn Province, said the order hopes to enable the home's residents to "age in place" in their apartments for as long as possible before transferring to a care household if a higher level of care is needed.
Mother Celine Therese, superior of Holy Family Home, thanked God and the benefactors who made the day possible.
"We choose to remain in Philadelphia, to live among the needy," she said. "We know we will face challenges, but we will push through our challenges with the help of our community."
More than 100 guests attended the groundbreaking ceremony including clergy, elected officials and representatives, partners, benefactors, residents and their families, staff, volunteers and Little Sisters from other similar homes in the region.
Rep. Jordan Harris (D-186), who represents the Pennsylvania House district in which Holy Family Home is located, also attended the ceremony and praised the Little Sisters of the Poor and the staff at the home for the work they do.
***
Kristine Visco is manager of Partner Development at the Catholic Foundation of Greater Philadelphia.
[ad_2]

Source link