[ad_1]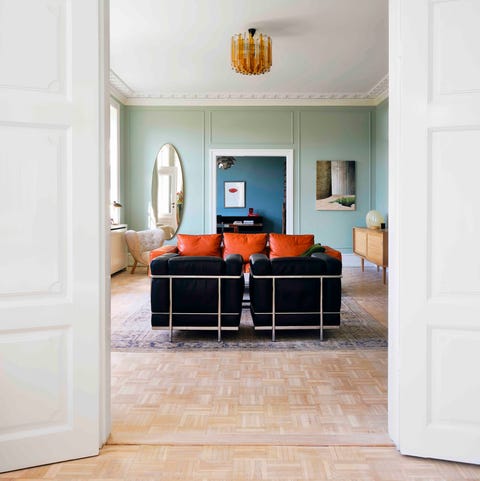 Christoffer Regild/Living Inside
It was when flicking through the residential advertisements in the Danish newspaper Berlingske that Henrik Walentin first saw this mansion situated in Frederiksberg, an upmarket neighbourhood to the west of Copenhagen.
He spotted straight away that it was something special but, after moving in back in 2013, the only furniture he had on the terrace of this first-floor apartment was an upturned red bucket. 'I used to sit on it and observe the renovation,' he recalls with a smile.
Today, the situation is very different. In 2016, Henrik, a former figure skater and coach who now runs an eponymous interior-design studio, took ownership of the rest of the property and proceeded to make his mark. Built in 1923 by the city's famous ASK Lauritzen, the grand house is a historic gem, created as a place for the architect, his brother and their respective families to all live together under one roof. Henrik and his partner Poul Lismoes now rent out the ground floor, but the vast garden and adjacent gatehouse are their creative playgrounds.
'I have discovered a great love of gardening,' says Henrik. 'For me, it is as exciting as interiors, with its own colours and textures.'
Colour wasn't always as important to the now-designer, though. When he first moved in, the décor was, he admits, 'completely spartan'. 'I would have liked to have lived like a minimalist, with lots of glass and steel inspired by the work of architect Richard Meier, but over time I found a love of colour and discovered what a gift it is. A new shade on a wall can change everything.'
Marrying tones of blue, ranging from deep and inky to cool and icy, alongside pops of yellow or terracotta, Henrik has certainly utilised his newfound appreciation in this flat. In fact, he sees many similarities between the choreography he created in his previous profession and the interiors he puts together today.
'I was known for my sense of music, soul, empathy and detail – and it's the same now,' he tells us. To complement these calming shades, he's curated a very personal collection of furniture. Some of the pieces are classics, while others are simply irreplaceable. His favourite is an old wicker chest from his childhood home. 'I used to sneak into it when playing hide and seek,' he says. 'I will never get rid of it.'
What makes a home special, in his opinion, is that it reflects 'the good times and the bad times'. Whether walking around the garden with a hose in the morning, refreshing the flowers, or completing his daily evening ritual – 'I turn off all the lights, stand in the dark and look out over the grounds' – it's clear that, in this personality-filled home, the good usually outweighs the bad. @henrikwalentin
This content is created and maintained by a third party, and imported onto this page to help users provide their email addresses. You may be able to find more information about this and similar content at piano.io


[ad_2]

Source link