[ad_1]

GATE CITY — The Scott County Board of Supervisors received price tags to go along with its potential courthouse project designs.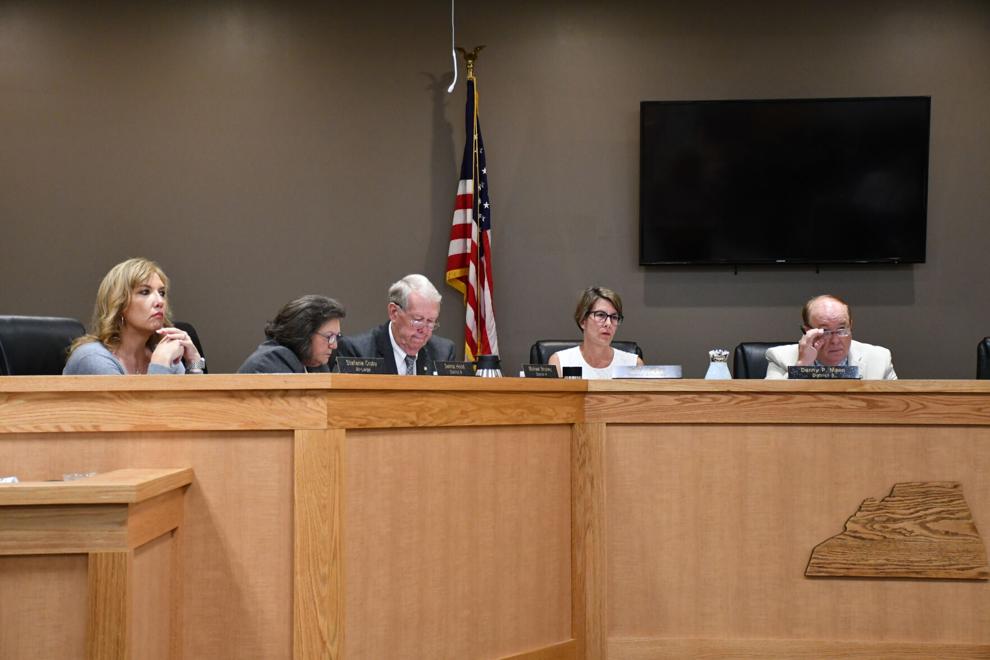 The civic sector leader for Moseley Architects, Tony Bell, presented five renovation and addition projects at the county's Wednesday, June 1 meeting. The options offer upgrades and additions for approximately $27.4 million to $36.9 million.
Mostly, Bell said, the building needs added space to accommodate its staff and the public.
"You've been doing the best you can," Bell said. "You've renovated space, you've turned storage closets into offices and storage rooms into hearing rooms and courtrooms. We've got a pretty big space deficiency."
The courthouse building currently offers 21,140 square feet. According to the Moseley assessment, the county and its various courthouse departments need 65,139 square feet.
The architectural firm also suggested in all six design options that the county demolish the former jail space and the sheriff's annex. According to the firm's study, the annex area is partially demolished and "could contain hazardous material" and the jail is "not an acceptable holding facility."
The firm recommends a hazardous materials study for the sheriff's annex.
The suggestions from Moseley Architects also included renovations of the courthouse and judge's chambers in addition to secure parking for county officials and staff.
Though more space is needed, Bell also said projections do not lean toward an increase in caseloads or population in Scott County.
According to data from the University of Virginia Weldon Cooper Center for Public Service, the 2020 population was 21,576 in Scott County. The projected population is estimated at 20,961 by 2030 and 19,740 by 2040.
Caseloads were also considered in the firm's study.
"We saw a little uptick in 2021 as things began to return to normal," Bell said regarding the number of court cases in Scott County in recent years. "But basically a pretty flat curve there in terms of general court cases."
The average cost of the six design options is approximately $31.7 million, Bell said, for a project that would likely take four years to reach completion.
For BOS members, however, the concern is funding.
"Right now the county has roughly $5 million of debt," said BOS Chairman Danny Mann on Wednesday. "We will do what we have to do, but I can't for the life of me see how we can afford to do this. It's going to be hard."
In other business, the BOS opted to send a letter to the Washington County Virginia Department of Emergency Management expressing a desire to apply for a Homeland Security grant to secure an emergency kit to help those who might be exposed to chemical or nuclear activity.
The letter said the kits could help "enhance regional capacities to respond to nuclear and radiological terrorism events."
"We have always felt real safe in Scott County," said Supervisor Michael Brickey. "I hate to see this coming, but I think it's something we need to take a very serious look at."
Darrin Rowe with the Virginia Department of Health told the board that if a grant is secured, a Nerve Agent DuoDote Kit would be placed at an emergency medical service station in the county to treat those who have been exposed to nuclear or chemical materials.
The BOS also approved donating $1,000 to the annual Duffield Daze celebration held each Labor Day weekend. The board also opted to donate $1,000 to the Weber City Volunteer Fire Department's Fourth of July Bash set for Saturday, July 2.
The July event aims to set off about 300 rounds of fireworks on Riverside Park Drive in Weber City. The event will also include a car show, dunk tank, bouncy house, food vendors and more at the former Food City that will eventually transform into the new WCVFD fire station.
"What we are trying to do is bring our community together and bring in people across the state line to come over and visit us for the fireworks show," said WCVFD Chief Bruce Cross. "We want to bring people back into the county."
For more information on the event, go to https://www.facebook.com/webercityvfd/.
The next Scott County BOS meeting will be held on June 15 at 8:30 a.m. at 190 Beech St. in Gate City.
[ad_2]

Source link