[ad_1]

SA records two Covid deaths and 2,022 new cases
South Australia's daily Covid summary is in. The state has reported two Covid deaths, with 244 people in hospital with the virus and five of those in ICU. There were 2,022 new cases recorded overnight.
Power warnings in Queensland
Peter Hannam
A warning by regulators of a more than 1400 megawatt electricity shortfall in Queensland by 5:30pm AEST today is no small thing to sort out.
Normally, the Australian Energy Market Operator (Aemo) would put out the lack of reserve notice and the suppliers would respond. The fact we have a level three notice out suggest that there are no takers (and in fact the size of the shortfall has almost tripled since the first notice went out).
Paul McArdle, an expert with consultants Global-Roam, says the issue is that so much coal and gas-fired generation capacity is offline. (Last night, it was almost 5000MW between those two, and the 2000MW of solar wasn't supplying much as you'd expect.)
Part of the reason is that some of the units are offline for repairs or maintenance, made more complicated by Covid staffing and supply disruptions.
Another issue is that as of last night Aemo had also imposed a price cap of $300/MW-hour because certain cumulative price thresholds had been exceeded. McArdle estimates those caps will last another week, and will be affecting NSW plants exporting into Queensland. (NSW all moved much closer to having its own price caps imposed overnight.)
As Russia's invasion of Ukraine has sent global energy prices higher, the cost of uncontracted gas and coal (and oil) has soared. At $40 a gigajoule of gas, for instance, a gas-fired power station would spend about $400 to produce a megawatt-hour electricity – or less than the $300/MW-hour they would paid today (and for another week at least).
Similarly some coal plants would also have to pay inflated spot prices of coal, and might see little financial incentive to do with the price limit in place.
McArdle reckons Aemo will be ringing up Rio Tinto's Boyne Smelter and other big energy users to cut back before this evening's pinch.
'The problem, though, the energy squeeze across eastern Australia "is going to last a long, long time", he said, not least because winter has only just begun.
Lincoln Crowley sworn in as first Indigenous supreme court judge
From Marty Silk for AAP:
As a young man, Lincoln Crowley may not have known if the supreme court of Queensland existed, but he understood fairness, and he understood justice.
The Warramunga man has become Australia's first Indigenous supreme court judge after being sworn in, in Brisbane on Monday.
Justice Crowley said he didn't take any classes in legal studies at high school in Charters Towers in the 1980s.
Nor did he spend much time thinking about the court he would sit on. In fact, he doesn't think he even knew it existed.
"But I knew what was fair and what was not," the new judge told his swearing-in ceremony in Brisbane.
"I knew it was not fair when I applied for a part time job after school at a local shop and later found out that the manager threw my application in the bin, while saying: 'They're Aboriginal, aren't they?'
"And I knew it was not fair when teachers suggested that I wouldn't amount to anything and when others judged me, and my worth, and potential without even knowing me."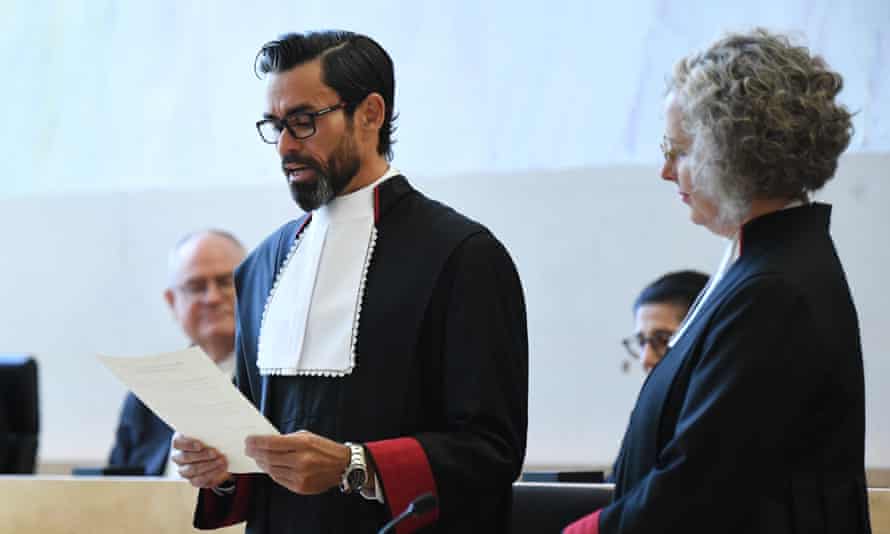 Crowley was inspired by his father, a retired army officer and one of the ADF's first Indigenous majors.
His dad encouraged his children to be educated, work hard and make something of themselves.
Crowley said he always resisted measuring himself with "someone else's yardstick".
He was admitted to the bar in 2003 and worked with Aboriginal and Torres Strait Islanders Legal Service, and the NSW Crown Solicitors Office.
Crowley has been a crown prosecutor for the Commonwealth Director of Public Prosecutions in Queensland.
He was a private counsel for the NSW DPP, and served as senior counsel assisting with the disability royal commission.
The bar association president, Damien O'Brien QC, said Crowley was highly respected in the legal community, and especially by aspiring students.
O'Brien said for too long Indigenous Australians have lacked a voice within the legal system.
The senior judiciary hasn't reflected the import role of First Nations people as the custodians of the country, he said.
"Your honour's elevation to become the first First Nation superior court judge in this land is an important step in a much longer process to ensure that this historical role is rectified," O'Brien said.
"I can tell you right now, the barristers of Queensland are extremely proud that you are one of our own."
Back when he was studying law, Crowley distinctly remembers feeling he wouldn't fit in in the legal profession, which seemed like an exclusive club at the time.
"Times have changed, though," he added.
His appoint as a judge comes 30 years after Margaret White became the first female supreme court judge in Queensland, and since the momentous Mabo land rights decision.
While he hopes one day that the appointment of an Indigenous judge isn't remarkable, Crowley said some have asked on social media why his "Aboriginality" is such a big deal today.
"The answers to these questions are pretty obvious: diversity matters," he said.
He said the administration of justice was advanced by having judges who represented Australia's diverse communities and their life experiences.
He also hopes his appointment inspired other First Nations people to take up the legal profession.
"I will strive to do justice in every case," Justice Crowley said.
"To my mind that is the most important objective in the law, and the one thing our community expects judges of this court will deliver.
"In the end, justice is what it's all about: always was, always will be."
Severe weather warning for WA's southern coast
NSW premier announces SES funding boost and signals stamp duty changes
Afternoon all. Thank you kindly Cait for your stewardship.
Now, as we await Collingwood's thoroughly deserved drubbing – it will be no cakewalk this afternoon – we have some details on the announcements the NSW premier made earlier today, from our friends at AAP:
The SES will receive a funding boost of almost $133m in next week's New South Wales budget, with a new incident centre to be headquartered in Lismore, the epicentre of recent devastating floods.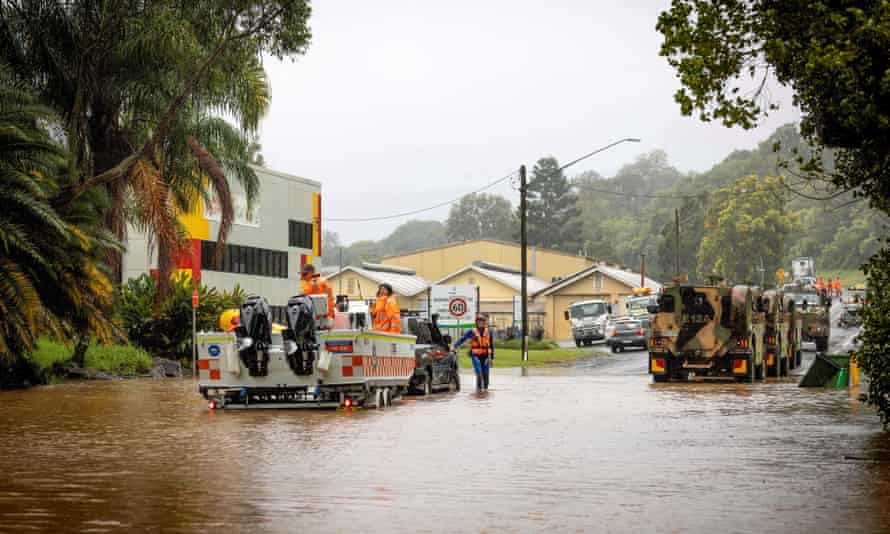 The premier, Dominic Perrottet, announced the $132.7m funding increase from flood-hit Goonellabah on Monday, as an inquiry into the state's emergency response continues.
"We know that events will occur in the future but we can't make the mistakes of the past … [we must] make sure our communities are resilient when the next natural disaster occurs," he said.
A new incident control centre will be built and staffed in Lismore as part of the ramping up of the SES's presence in the Northern Rivers region.
Nearly $59m will be spent on upgrading 18 critical priority unit facilities across NSW.
Nine people died across the state in the record-breaking floods that lasted for weeks and inundated large swathes of the region.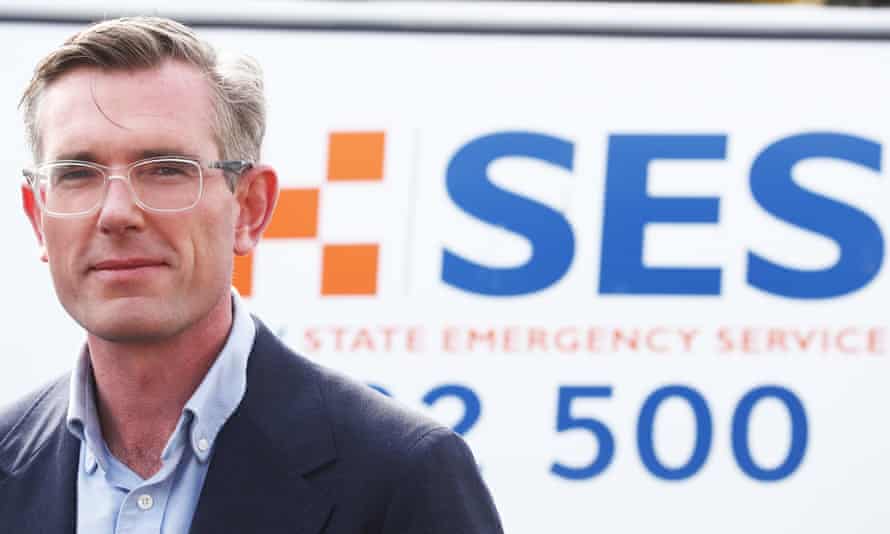 The premier has also signalled he wants to abolish stamp duty to make it easier for new homeowners to enter the market.
The reform would give homebuyers in NSW the choice to pay stamp duty or an annual property tax based on land value and usage.
Once a property is moved to the new system it would remain subject to the land tax, phasing out stamp duty over time.
Perrottet spent much of his time as treasurer attempting to scrap stamp duty in NSW.
He has argued stamp duty, which can be the biggest out-of-pocket expense for homebuyers, impedes people from entering the property market.
Government-affiliated thinktank Committee for Sydney (CFS) welcomed the reported commitment.
"Phasing out stamp duty is the most important tax reform that the government of NSW could undertake," the CFS deputy chief executive, Ehssan Veiszadeh, said on Monday.
"The problems with stamp duty is that it's a tax on moving home … it makes it harder for people to adjust where they live based on things like changing family size or getting a new job," he said.
With that, I will pass the baton to Ben Doherty who will keep you company for the rest of the day. Wherever you are, I hope you're staying nice and warm. (And go Pies.)
Matt Kean denies claims he told journalists to ask about Katherine Deves
Earlier, New South Wales Liberal state minister David Elliott blasted the NSW treasurer, Matt Kean, for "treachery".
A story in the Australian newspaper over the weekend reported Kean had encouraged media travelling with former prime minister Scott Morrison to keep asking questions about controversial Liberal candidate Katherine Deves.
Looks like the projected power shortfall in Queensland is getting worse.
Without more generation coming into the market, supply is 1,454MW short of forecast demand at 5.30pm AEST, the Australian energy market operator (Aemo) says.
Paul McArdle, an analyst with Global Roam who runs the Watt Clarity website, says that amount is about Brisbane's demand. Not meeting that supply would be "catastrophic," he says.
By putting out those market notices, the aim is to prod generators to supply more energy. Unfortunately, as there are price caps in place at $300 a MW-hour, there are not enough takers – so far.
Here is what Aemo says in its latest market update:
Going to be a busy afternoon in Queensland energy minister Mick de Brenni's office, you'd have to think.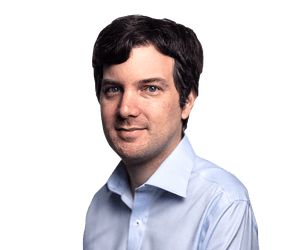 Daniel Hurst
Deputy prime minister en route to Japan
The deputy prime minister, Richard Marles, is currently flying from Singapore to Japan, after his meeting yesterday with China's defence minister marked the first high level contact with a Chinese ministerial counterpart in more than two years.
In a statement issued moments ago, Marles said he would visit Japan from Monday to Wednesday in his first visit to north Asia since he assumed the defence portfolio last month.
The statement said Marles would meet his counterparts and key defence and national security figures "to discuss our shared approach in the Indo-Pacific".
That will include a meeting with Japan's defence minister, Nobuo Kishi, at Japan's defence ministry "to affirm his commitment to the Australia-Japan Special Strategic Partnership".
Marles said:
I am delighted to be in Japan as one of my first international visits as deputy prime minister. Australia and Japan share a vision for an open and inclusive Indo-Pacific region, one where the sovereignty of all states is respected.

Japan is a critical partner in achieving our regional objectives. Our partnership continues to grow as we pursue new and ambitious avenues for cooperation, including through the Reciprocal Access Agreement signed in January.
The statement said Marles would also meet a range of Japanese academic and industry representatives "to discuss the complex challenges facing the Indo-Pacific and the need for innovation and collaboration to address them".
For a recap on yesterday's break in the diplomatic deep freeze with China, see our news story:
Western Australia reports two deaths, 4,802 new Covid cases
WA Health has released today's Covid update.
There have been 4,802 new cases detected in the 24 hours to to 8pm last night and two women in their 80s have died.
The deaths date back to 5 June but were reported to WA Health yesterday.
There are 253 people being treated in hospital with the virus including seven people in ICU.


[ad_2]

Source link